Jeff Brown & the New Black at the Metro
---
---
No, seriously, like THE Metro.
I'm not going to sit here and pretend like this isn't a giant deal to me. Because it is. And I want to share it with all of you.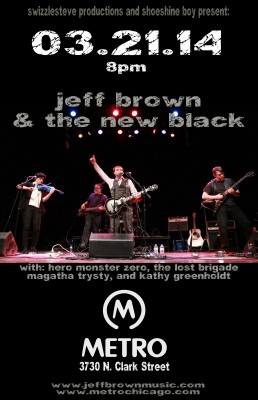 We're playing my favorite venue in the city of Chicago. The first music venue I ever walked into* when I was 18 years old and starting a new life in this city I call home.
The most recent incarnation of my music, dubbed The New Black, will be performing on Friday, March 21st. Doors open at 7:30, and the show starts at 8pm.  We hit the stage promptly at 8:45.  The Metro is very on time.  Very very on time.
Joining us are my friends in Hero Monster Zero, as well as fellow CAUDog Records act The Lost Brigade, Cathy Greenholdt, and Magatha Trysty.
All of this can be yours for the low low price of $9. Unless, of course, you want to pay only $6.
By using the promo code "black", or, if you really like black, you can also use "BLACK", you can get $3 off the ticket price by buying in advance.  You can get advance sale tickets at this link, or by clicking on the poster.
I cannot express how excited we are to play this show. I truly hope that you can all make it out to such a momentous occasion…
*for those of you curious, I saw Slayer. Epic show.
---
---