Biography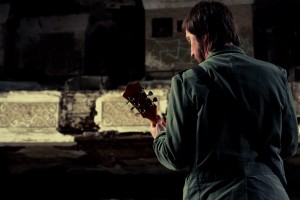 Often reluctant – or unable – to characterize with any particularity the definitive style of his music, Jeff Brown frequently describes his sound as 'a singer-songwriter who got himself a band.' His shows and music run the range from delicate indie-folk to more aggressive alt-rock with forays into jazz and chamber pop. His songwriting trends towards the melancholic and his Facebook page cites his songwriting influences as "Girls and alcohol, mostly," though in reality, his music is rarely that one-dimensional. Brown writes love songs for people who are sick of love songs.
Chicago-based singer/songwriter Jeff Brown was born in the Chicago suburb of Elk Grove Village, IL. After moving to California as a child, he began a lifelong love of making music upon finding his dad's old guitar in the attic. Raised on heavy metal (Brown was a veteran performer in several heavier bands throughout high school and college), versed in classical and the blues, he has since found his home in the soothing melodies and heartfelt lyrics of modern folk rock.
While in law school, Jeff Brown met singer-songwriters Greg Combs and Christine Knodle, and in 2008, formed Goodbyehome, an alt-country band rooted in rich harmonies and strong songwriting. Though focusing a majority of his musical attention on Goodbyehome, Brown grew as a songwriter in his own right, and began gathering material and players towards his own ends. As the Goodbyehome lineup changed, many members teamed up with Brown to form the core of what was often lovingly referred to as "The Jeff Brown Extra Large Trio" – a four-piece group which consisted of Christine Knodle on violin and vocals, Jim Lordeman on drums and vocals, and Michael "Vez" Narvaez on bass.
Over time, lives and circumstances change, as do bands. Alex Gilewicz joins Brown on cello and vocals to fill the shoes of violinists Sarah Blick and Christine Knodle, who left to focus on music education, and long-time friend and intermittent guest guitarist Eric Stafford returned to earn a permanent spot in the lineup. Mark Lester has stepped in to replace Lordeman, who moved to Los Angeles to pursue film scoring and composition. The new lineup has been dubbed Jeff Brown & the New Black. A new studio album featuring the new lineup is currently in pre-production.
Balancing a blossoming legal career with his musical pursuits, Brown released his long-overdue debut album, Last Chance, on CAUDog Records on July 2, 2012. The album, an 11-track work engineered and produced by Ellis Clark, was named via Brown's assertion that "pretty much every one of [these] songs is a healthy mix of desperation and hope."
Also available are a pair of EP's, recorded at Chicago's The Workshop Jones, and Deerpath Studios in Madison, WI. 'Madison or Bust' was released in January 2014, and 'Cutting Ties' was released in August 2014.